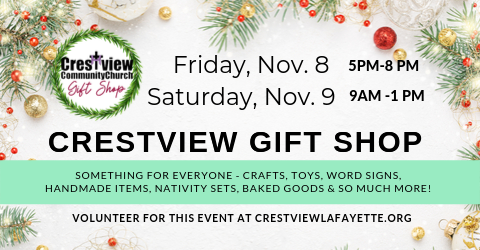 NEW DATES: The 2019 C3 Christmas Gift Shop Dates will be November 8 & 9.
Friday, November 8, from 5:00PM - 8:00 PM
Saturday, November 9 from 9:00AM to 1:00PM
Thank you for visiting our C3 Gift Shop page. The C3 Gift Shop is a ministry of Crestview Community Church.
The Crestview Gift Shop is the perfect place to shop for unique Christmas and Fall decorations, home decor, wooden signs with sayings, Purdue items, handmade crafts, gift baskets, gift mugs, kids' clothes & toys, books, women's boutique items, baked good and so much more!
Proceeds from the C3 Christmas Gift Shop are used in support of C3 ministries and the like-minded community organizations we partner with to make a difference in people's lives here in Lafayette and around the world.
**We do not accept outside vendors to participate in this particular fundraising event.**
The 2019 C3 Christmas Gift Shop Dates will be November 8 & 9.
Crestview Community Church
1400 Ortman Lane
Lafayette, Indiana